President – Jeanie Ziegler, Illinois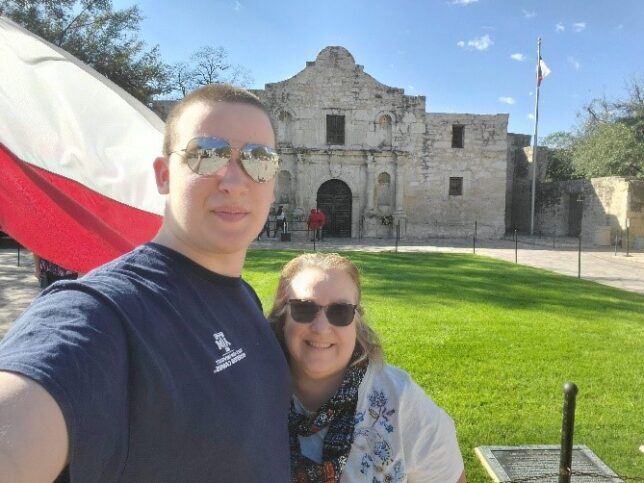 chicagoareapresident@aggiemoms.org
Our story continues to be written. Each chapter takes a new turn, in this case, to Texas A&M. I have learned a while ago, the best way to understand what our children are doing is to get involved. Now, college is a whole different ball game, and while our role shifts, we need the support as much as our kids do!
Enter Aggie Moms….This amazing group of women are here for each other, as well as our children. As an out-of-state parent, we face other logistic challenges, and there's a chance someone has faced the same situation. We share our stories, both the uplifting and the heartbreaks. We also learn. We learn about the traditions of Texas A&M and what makes this University so special, and we learn from Departments and Organizations that we invite as speakers.
We invite you to join us, we welcome you at whatever stage of the journey you are at and be a part of something truly special – The Aggie Mom's club!
Vice-President at Large – Renee Lotz, Illinois & Texas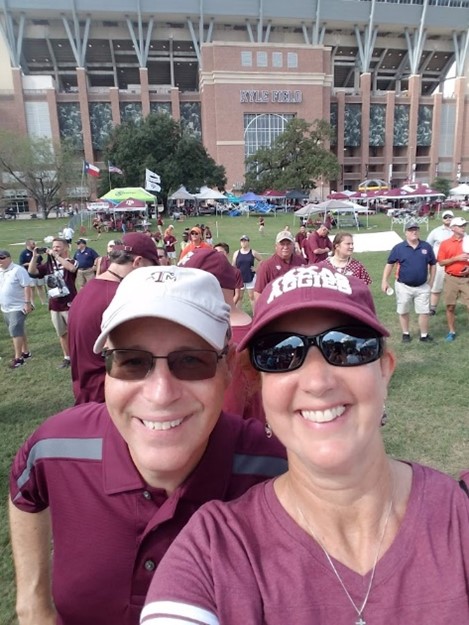 Renee is the loudest and proudest mom of class of '22 chemical and aerospace engineers. She and her husband reside in Wheaton, IL & McKinney, TX. When she visits Aggieland, she loves to grab a coffee at POV next to the Stella Hotel and walk around Traditions. Century Square Restaurants are a must when visiting College Station: Hop Doddy Burgers, Sweet Paris and Velvet Taco. Renee was thrilled to serve on the Board of Federation of Texas A&M Mothers' Clubs 2022-2023. Renee is one of the Chicago Area Club's founding members and President 2020-2023. Her favorite thing is connecting moms with resources and each other.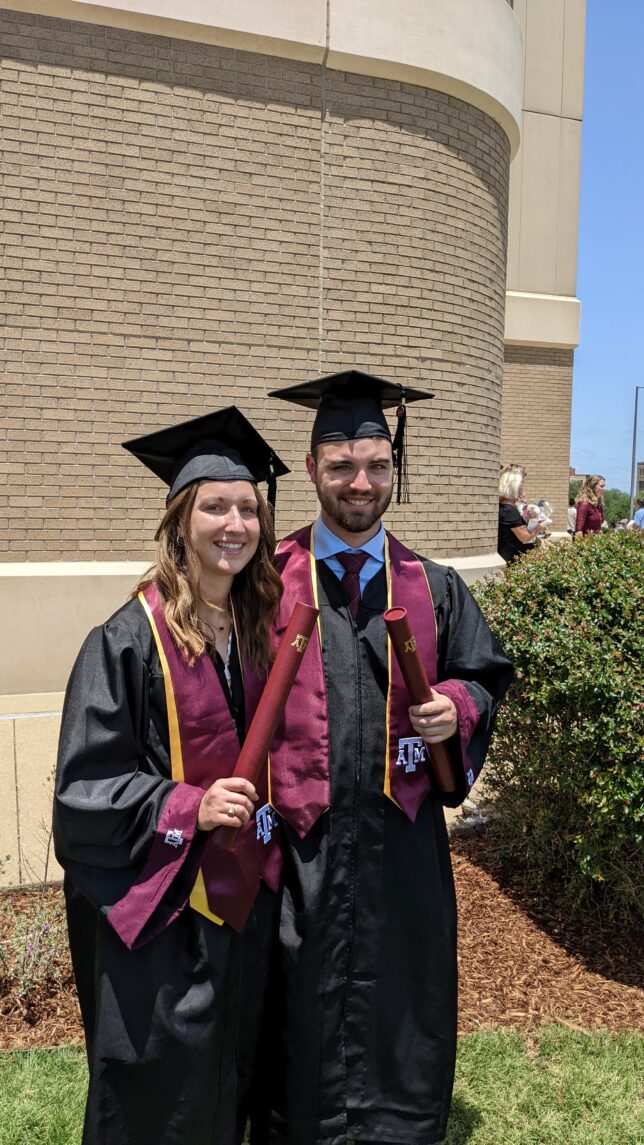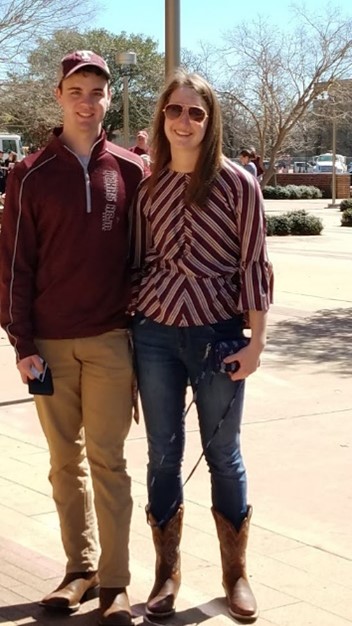 Vice President Recording Secretary – Michele Rowe, Missouri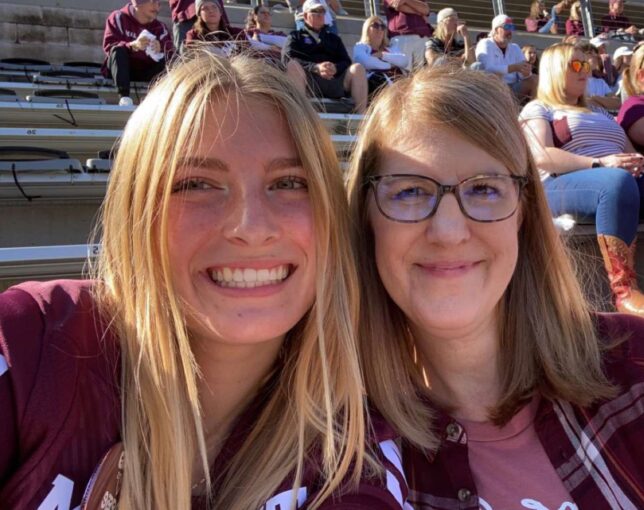 chicagoareareacsec@aggiemoms.org
Michele is the proud mom to Brooke, a Forensic and Investigative Sciences major and the loudest, the proudest member of the fighting Texas Aggie class of 2026.
She and her husband live in Kansas City, Missouri. In addition to Brooke, they have an older daughter, Courtney, who works as a reporter and weekend news anchor at KQTV and a son, Johnathan, a sophomore in high school.
In Aggieland, Michele can be found at the Kappa Alpha Theta House with Brooke or at her favorite breakfast spot, The Toasted Yolk.
2nd Vice President Programs – Susan Vanous, Missouri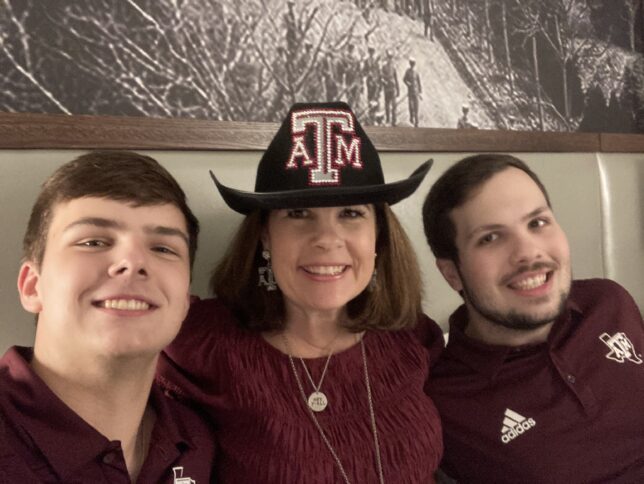 chicagoareaprograms@aggiemoms.org
Susan is the loudest and proudest mom of two Aggie engineering students. Noah, class of '24, is an honors aerospace engineering student and also plays for the Hullabaloo band. Matthew, class of '26, is a mechanical engineering student and is a member of the American Medical Students Association.
Susan and her husband live with their dachshunds in Winfield, Missouri. Susan recently became a master gardener and beekeeper. Susan is an active volunteer for the Glennon Guild/SSM Health Cardinal Glennon Children's Hospital and Saint Louis University High School's Alumni Moms Club. Susan's Aggieland favorites include attending football games, celebrating ring day with green tea shots at Dixie Chick, eating tacos at Fuego Tortilla Grill, and attending Mass at St. Mary's.
Membership Chair- Dania Wendland, Illinois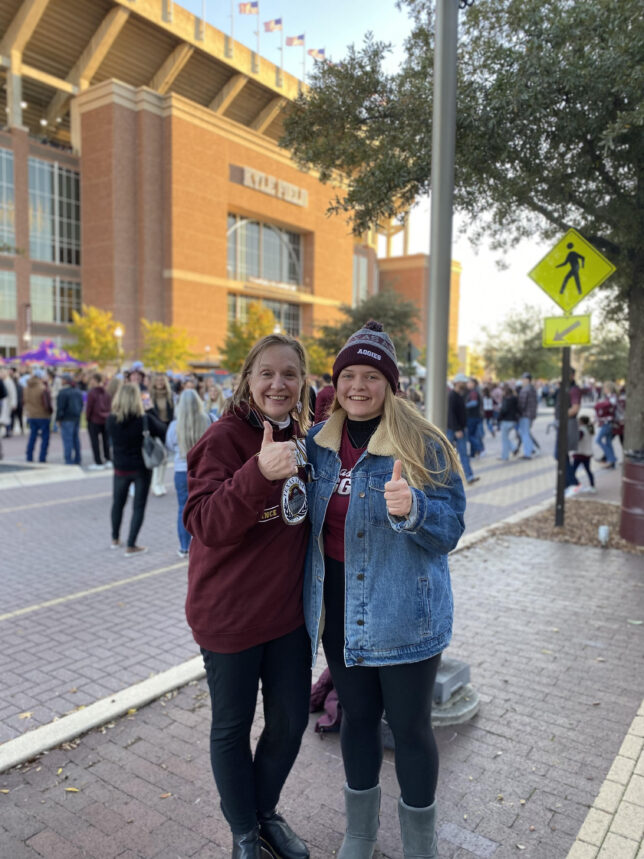 chicagoareamembership@aggiemoms.org

Dania is the loudest & proudest mom of her daughter, Keeley, a computer science major and Class of '25. Dania and her 2 other children, Kiley and JD, reside in Willow Springs, IL. Dania is a former student, Class of '91, and comes from an Aggie Family. Her dad was Class of '60 and her 2 sisters are Class of '95 and '96. Dania grew up attending Texas A&M football games and is so excited that Keeley is continuing the family tradition. Dania's favorite parts of Aggieland are the Traditions, Spirit, and the amazing feeling before football games when hearing the Aggie War Hymn and the The Spirit of Aggieland.
Treasurer – Rosemarie Andersen, Missouri
Rosemarie is the loudest and proudest mom of son, Dominic'26. Rosemarie is one of 8 moms in our Club who reign from Missouri. We are grateful to have her as our fearless, mighty Treasurer.
chicagoareatreasurer@aggiemoms.org
Fall Weekend Chair- Janet Knecht, Illinois
Janet is the loudest & proudest mom of her son Kipp, Class of '23. He is in the Corps, Squadron 3, plans to join the AF, an ISEN major, and a Fightin' Texas Aggie Yell Leader! Her husband Kevin & daughter Kendall reside in Batavia, IL. Janet volunteers at the local Food Pantry & the HS Athletic Booster Club as well as for our local Aggie Moms Club & Quad Moms. Her favorite place in Aggieland is to be is on Kyle Field watching Texas football on a Saturday afternoon and she is always hoping to catch a glance of the Queen of Aggieland, Reveille.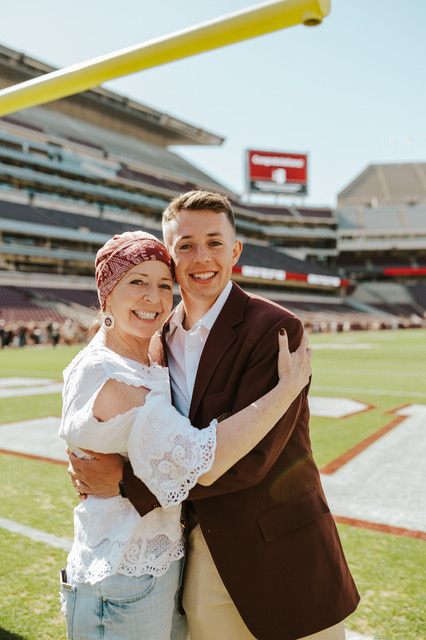 Scholarship Chair – Amy McKinlay, Ohio
Amy is the proud mom of Payton, a Biology Major, Class of 2026. She and her husband, Steve, and their yellow Labrador retriever, Griffin, live in suburban Columbus, Ohio. Amy loves spending time in College Station; a perfect day in Aggieland includes attending a football game at Kyle Field (with a stop at the Dixie Chicken!); shopping at Century Square, Aggieland Outfitters and Sabi Boutique; and, dining at The Republic Steakhouse.